Choosing a Yamaha U1 piano is easier than you may think…
Did you know that Yamaha have their own dedicated factory to recondition their pre owned U1 piano models?
As with a brand new U1 piano, these pianos come complete with a 5 year warranty and are sold through Coach House Pianos the UK's premium Yamaha piano dealer!
Each Yamaha reconditioned U1 piano comes complete with its own certificate of restoration authenticity for total peace of mind.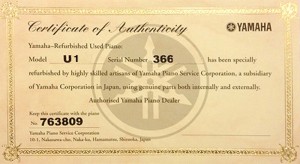 Yamaha Authenticity Certificate
The certificate states:
"Yamaha – Refurbished Used Piano:
Model U1 Serial number 366***** has been specially refurbished by highly skilled artisans of Yamaha Piano Service Corporation, a subsidiary of Yamaha Corporation in Japan, using genuine parts both internally and externally"
U1 Reconditioned Pianos at Coach House Pianos
At Coach House we have a large selection of Certified Yamaha reconditioned pianos in our showrooms. We would happily welcome you to inspect all areas and components of our Yamaha U1 pianos. Each piano comes with its own certificate to verify its restoration history. At Coach House Pianos we can offer you 100% peace of mind when purchasing one of our Yamaha U1 pianos, both Yamaha reconditioned.
All of our pianos are 100% genuine with the guarantee that you'll be 100% satisfied with your piano for decades to come!
Follow this link for more information and to see some of the pianos we have in stock